A unique event space worldwide
---
We welcome you in a real Airbus cabin for your business or leisure activities. Make this incredible space private for your company or book places for a for a weekend activity with family or friends.
Can also be given as a gift voucher!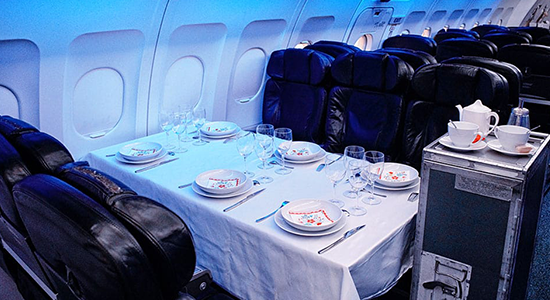 Professional
---
HIGH ADDED VALUE EVENTS
You've already flown on an airliner but... have you ever privatised one for a business lunch or a team building? Our recycled Airbus A319 offers an original setting for all your business events and for all your exceptional private events! seating arrangements: facing each other (6 tables of 6), classic (cinema, training) and banquet (9m long table). Book your slot now!
Individuals
---
FOR AN UNFORGETTABLE EXPERIENCE

In the evenings and at weekends, Flylounge changes its universe and welcomes individuals to spend an incredible moment in its airliner passenger cabin. According to the day and the time, the themes change. You can book a table, eat on board, sing, play music, learn how to do a demo cabin, talk to real pilots and visit the (functional) cockpit while a pilot discovery session takes place...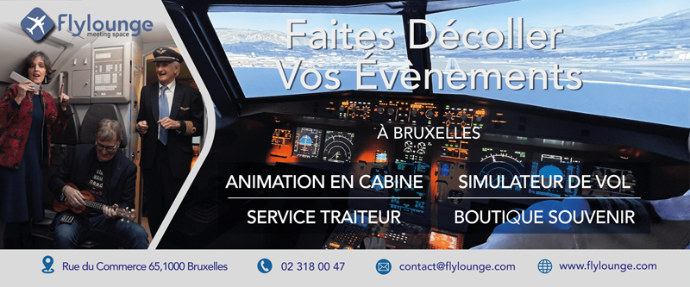 Health safety label
Our room is equipped with air purifiers, a CO2 detector, double flow ventilation and has the health safety label of the Brussels region with the support of visit.brussels.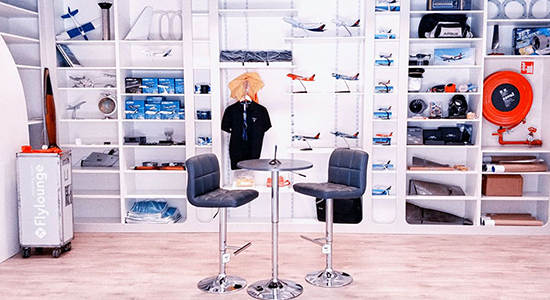 Gift shop
---
TO MAKE PEOPLE EVEN MORE HAPPY
Flylounge was designed as a small airport... with its aircraft, catering and... a souvenir shop! Here you will find all kind of gifts with an aeronautical theme (comics, books, toys, caps, posters, etc.) as well as many original decorative objects
A incredible space

---
SKY THE LIMIT
Flylounge is above all a unique space with many possibilities. Do not hesitate to share any requests you might have or if you wish to privatise this place for a private or professional event.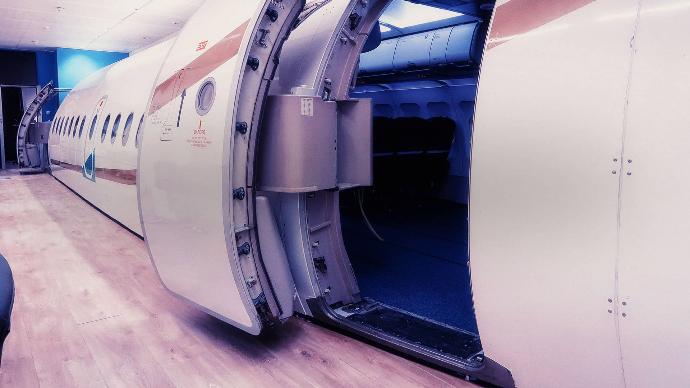 We were looking for an original place to hold a teambuilding session after 15 months of teleworking and visited Flylounge which which absolutely thrilled us. We're looking forward to a memorable "post-covid" teambulding in March!

The simulator is just amazing! Everything is really true to life and the instructors are really passionate. The Airbus is really an extraordinary aircraft... A must!

We shot a sequence for our UFO series in August and were very pleased with the passenger cabin. We came back for We came back for some cockpit footage in September. Definitely recommend it.

A plane in the middle of the city! I can't believe my eyes. I just ordered a gift voucher online for an on-board experience with friends and a meal. This is going to be amazing!

Seating
Our aircraft has 36 to 51 seats depending on the configuration. Add to this the 2 jump seat
Wifi
There is Wi-Fi on board! You can also connect your laptop chargers and smartphones on your table.
Catering
The chef is Daniel Dupuis, former personal chef of King Baudouin and best chef in Belgium.
Screens
Two 55" screens and 3 microphones including a wireless for unforgettable presentations
Hostess
As on a commercial flight, you can call a member of the cabin crew from your seat.
Simulator
A flight simulator has been set up in the front of the aircraft for totally immersive and breathtaking experiences
Accessibility
Our hall can accommodate people with disabilities (see the link to our dedicated page in the footer)
Easy access
The Arts-Loi metro station is only 350m away, as well as the car park of the same name, which has more than 1000 spaces
Flylounge is also an amazing gift shop!
Discover our incredible gift shop after your event or directly online. Our selection of souvenir items will delight your loved ones, whether they are aviation enthusiasts, decoration lovers or aviation equipment enthusiasts! You will find hundreds of collectibles, models, aviation books, goodies, costumes etc.

---
They talk about us