Gourmet meal on board an A319 - Multi Offer (copy)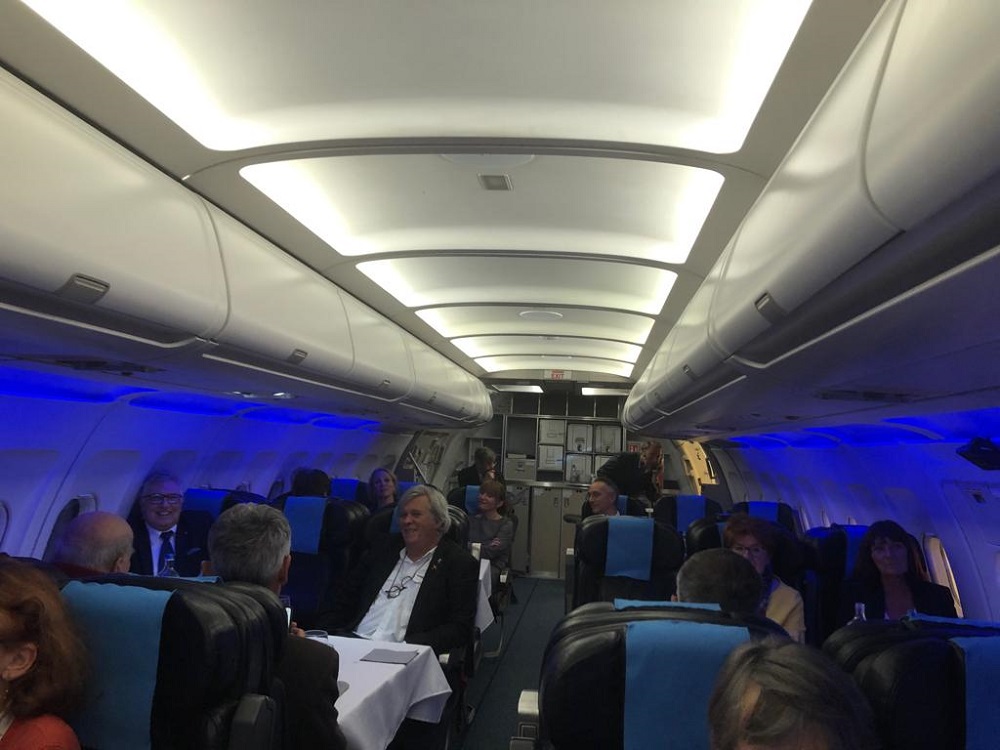 Gourmet meal on board an A319 - Multi Offer (copy)
Description
This offer is a particularly high-quality 'tranquillity' package combining a 5-course gourmet meal, 3 glasses of wine (or beer) per person, coffees/infusions and a 15-20 minute flight simulator session in the cockpit (per table).

 The 5-course meal takes place on board the Flylounge aircraft, which is equipped with 6 tables for 2 to 6 people. A world first with the support of the Brussels-Capital Region and visit.brussels. The flight simulator is accessible through the cockpit door.
Ready to share an unforgettable experience with friends? Don't miss this particularly original offer in a former Airbus A319. Slightly subdued lighting, atmospheric sound, first-class service... Enough to satisfy even the most demanding passengers, and to make you forget the gloom as you fly over the earth at 39,000ft!
Useful information
To be discovered every Saturday evening by appointment, boarding at 7.30 pm (if possible... but the plane won't leave without you!). 
For greater efficiency in the kitchen and to avoid food waste we offer a unique menu. The chef can adapt the menu on request for vegetarians or those on a special diet (just send an email to contact [at] flylounge.com. A Vegan Menu is also available on request.


MENU DE  NOV ET DEC 2023
Amuse-bouche
2 surprises du chef
​Entrée
Glacé de butternut confit à l'ostendaise


Plat principal
Moelleux de Coucou de Malines aux champignons asiatiques et pommes duchesse
 Dessert
Doyenné en feuilleté de frangipane et sa glace vanille  
SIGNE ET REALISE PAR LA CHEFFE OLIVIA HOSHI
Dans la limite des stocks disponible
Access: Rue du commerce 65 – 1000 Brussels.